Divided-image Capturing Equipment for Large Products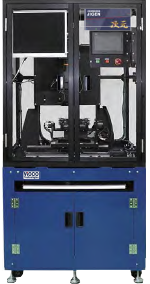 This system automates the eyesight-based inspection process by reducing the takt time.
This system can handle large products such as automobile junction boxes, substrates, and the exteriors of mobile phones and tablets.
JIGEN features
Multi-axis
An original system with a maximum of five axes: XYZ + θ + tilt


■This system makes it possible to smoothly and precisely handle the complex movements of large (approximately 150 by 100 mm) products, including product movement, rotation, oscillation, and camera-lighting movement.
High-speed
High-precision inspections of large products in a short time
■This multi-axis system operates at a high speed despite its complexity. This contributes to a reduction in the takt time.
Even large (approximately 150 x 100 mm) products can be inspected at a rate of 11 seconds* per product.

* When capturing 30 images of five sides
JIGEN introductory video
Images captured for each stage are combined and processed as one image. By achieving the automation of inspections equivalent to eyesight-based inspections, we are contributing to increased quality stabilization and productivity improvement.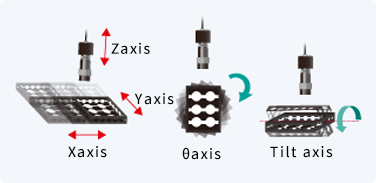 JIGEN system
This system uses multiple axes (XYZ + θ + tilt) to capture divided images of products and perform inspections.
VTV-9000miniR + a high-speed, high-resolution camera
By combining ViSCO's image processing
inspection system VTV-9000miniR, which achieves high-speed image importing, with a high-speed, high-resolution camera, we can achieve the precision and processing time required for products.
ViSCO's image linkage achieves ultra-high resolution!

ViSCO's image processing technology ensures inspection precision.
Seamless image linkage
Linking multiple images into one makes it possible to perform inspections for which detection would have been difficult with individual images as well as measurement and inspections that extend across multiple images. For many divided image inspections, it is necessary to set up each camera for an inspection, but ViSCO makes it possible to specify all the settings at once, which leads to reduced work-hours. In addition, because images are combined with a sub-pixel level of precision, inspection and measurement are possible immediately after linkage.

Higher precision, more consistent inspections with statistically correct non-defective products
It is not always possible to produce the same industrial products in the same environments with the same material quality. Though subtle, there are sometimes differences. With ViSCO's original inspection tool DefFinder®, a number of non-defective-product patterns are registered, and subtle variations between them are then considered to stably detect appearance defects, such as scratches, dirt, and foreign matter.
System Configuration Example

VTV-9000miniR
(image processing
inspection system)
An evolved, high-end version of the VTV-9000mini that is specialized
in high-speed image importing
This model is an evolution of the standard model VTV-9000mini. With this model,
captured images can be imported at twice the speed.
Compatible camera modes
Standard / high-speed
(Cameras with different numbers of pixels can be mixed.)
Maximum number of connected cameras
2
External dimensions*1
230(W)× 221(D)× 92(H)mm
9.1(W)× 8.7(D)× 3.6(H)inch
Weight
2.7kg
Power consumption
210W or less

A camera
that supports high-speed mode
High-speed processing + high-resolution
visual inspections
This camera makes it possible to achieve
the required processing time and high precision.
Camera
12 megapixels
Number of pixels
3984x3000
Image transfer speed
19.2ms (52fps)
External dimensions
68(W)×68(H)×81(D)mm
2.7(W)x2.7(H)x3.2(D)inch

Lighting control
power
VTVLC series
Turn on, turn off, or dim an LED light according
to the image importing timing
Simply connecting this to the VTV-9000 series
makes real-time lighting control possible.
Products
VTV-9000 Series
Conceptual Equipment