Are you struggling with problems like these?
Setting up is
complex and
takes too
much time.

Few balls can be
egistered, and the
scope that can be
handled is limited.
I want to inspect
the ball height
at the same time.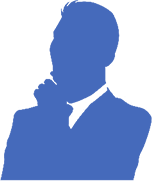 ViSCO Technologies can help!
Quick inspections possible using special BGA tools
The VTV-9000 series includes a "BGA inspection tool" as a visual inspection tool for BGA (ball grid array) packages (rear surface). Because it is a special-purpose tool, inspections settings such as ball/pattern training can be easily performed, so inspections can be conducted without delay.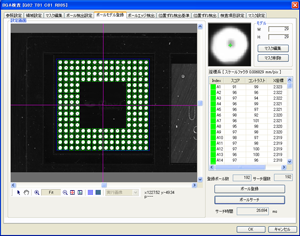 ・The number of balls that can be trained is 100×100 = 10,000 (max.)
・A function that can easily perform ball training
・Ball cropping (automatic, manual)
・Ball models are integration models
・Masks can be put on ball models
・Each ball's score and contrast can be checked
・Ball position is automatically set
Inspection items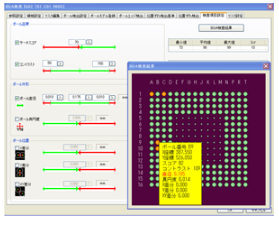 To set inspection items, simply select pre-prepared items.
Ball quality:Search score, contrast
Ball external form:Ball diameter, ball roundness
Ball position:X difference, Y difference, XY difference
Many inspection items and combined inspections
The systems in the VTV-9000 series are not BGA-dedicated inspection systems. By adding various general-purpose inspection tools (package detection/inspection, blob inspection, DefFinder®: general-purpose visual inspections, etc), various combined inspections can be created.
Back side

Front side

Package detection and inspection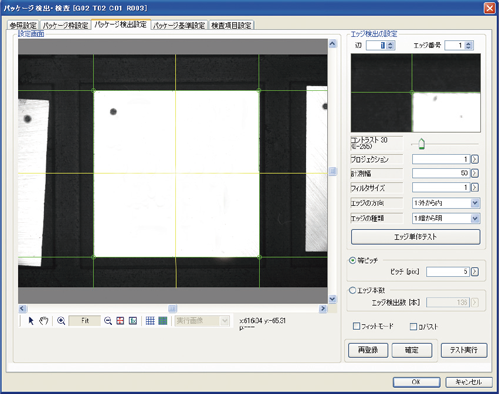 Inspections with two or more types of illumination conditions using illumination control
Not all inspections can be conducted with one set of illumination conditions. The VTV-9000 series uses a Lighting Controller that allows machine vision to turn the LED illumination ON/OFF and modulate the amount of light as required. By allowing illumination conditions to be changed, only the most appropriate illumination conditions can be used to suit inspection items, resulting in more reliable, precise inspections.
Illumination condition1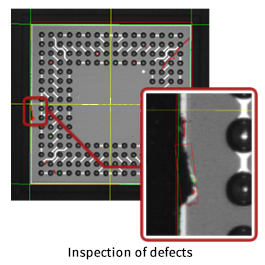 Illumination condition2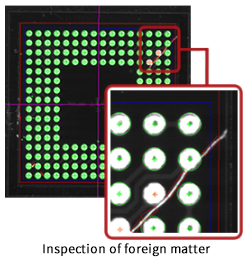 Application(Special-purpose inspection tools)