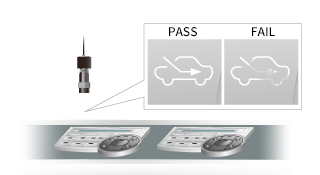 Inspections of display-panel print quality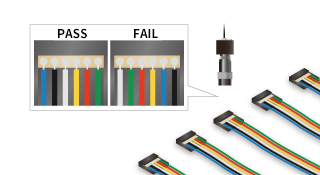 Inspections of harness wire color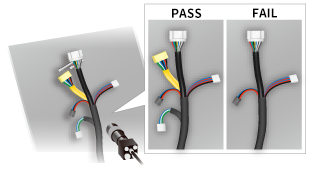 Inspections to determine whether harness parts exist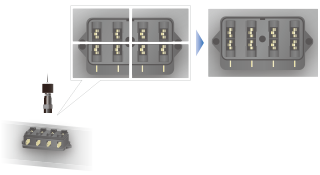 Visual inspections of junction boxes
There are also many examples that are not shown here.
If you have any questions about the feasibility of inspections with our company's products, etc., please feel free to send us an inquiry.
Customer feedback
Using a Super Focusing Camera made it possible to clearly see defects that other companies could not detect, which was quite a surprise.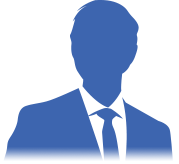 Only ViSCO can combine divided captured images so cleanly.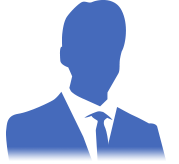 I know I can count on ViSCO for advanced inspections.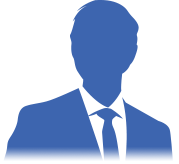 Possible Inspection Examples
With the conceptual equipment JIGEN, high-speed six-sided visual inspections are possible.
With this high-speed system, images captured for each stage are combined and processed as one image. By achieving the automation of inspections equivalent to eyesight-based inspections, we are contributing to increased quality stabilization and productivity improvement.
JIGEN system
This original ViSCO system has XYZ + θ + tilt axes and is used
to capture divided images of products and conduct inspections.This system makes it possible to smoothly
and precisely handle the complex movements of large (approximately 50 by 100 mm) products, including product movement,rotation, oscillation, and camera-lighting movement.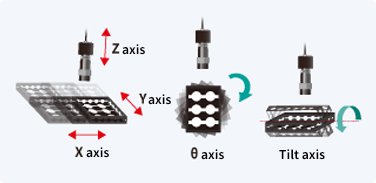 Seamless image linkage
Linking multiple images into one makes it possible to perform inspections for which detection would have been difficult with individual images as well as measurement and inspections that extend across multiple images. For many divided image inspections, it is necessary to set up each camera for an inspection, but ViSCO makes it possible to specify all the settings at once, which leads to reduced work-hours. In addition, because images are combined with a sub-pixel level of precision, inspection and measurement are possible immediately after linkage.
ViSCO's image linkage achieves ultra-high resolution!

VTV-9000miniR + a high-speed, high-resolution camera
By combining ViSCO's image processing inspection system VTV0-9000miniR, which achieves high-speed image importing, with a high-speed, high-resolution camera, we can achieve the precision and processing time required for products.