Are you struggling with problems like these?
I want to achieve high-speed detection even if
the objects are facing a different direction.

I want to be able to judge
cases where the robot
can't pick up objects.
I want to be able to
discern between the
front and back surfaces
with high precision.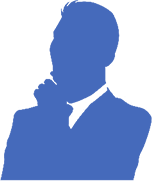 ViSCO Technologies can help!
High-accuracy robot picking and alignment inspection
In order for a robot to pick with accuracy, output of accurate coordinate to guide is required. RobotFinder utilizes ViSCO's proprietary algorithm, GradFinder® for alignment. High detection accuracy is made possible.
Judge top/bottom sides
All targets do not have to face the same direction!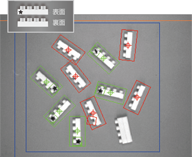 All the target may not face the same direction to be picked up. RobotFinder can train/judge top and bottom sides, which is useful for various applications.
Accurate two-step search to surely judge top and bottom.
The system searches for unique characters or signs to tell which side of a target is facing up, and to accurately judge whether which target can be picked up.
Detection of multiple items
Drastically reduce time for alignment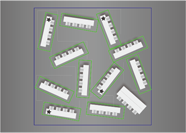 One search to detect multiple inspection targets; detected coordinate can be output via serial/network.
Coordinate output suitable for robot
Compatible with more robots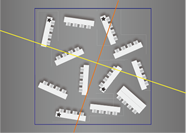 In image processing, left top of an image is set as datum point, however, robot does not always apply the same coordinate rule. VTV-9000 supports coordinate output for a robot that requires its own coordinate system.
Simple configuration only to tick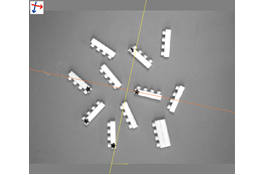 Configuration for coordinate
system and detection number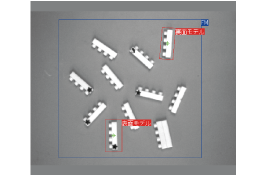 Search configuration
Configuration for coordinate system and detection number
Configure coordinate axis orientation/rotation angle when outputting detected coordinate to robot.
Search configuration
Train search models for top and bottom sides to configure.
Configuration of various conditions
Condition of top/bottom side, distance measurement to be used as distance condition, availability of periphery judgment, or threshold value setting as periphery condition can be configured.
①Judge distance
Emit overlapping targets!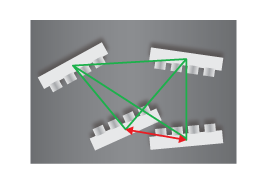 Measure distance between targets; judge whether robot can pick targets up or not by checking targets' overlapping or connecting one another.
②Judge the whole region
Discriminate which items can be picked!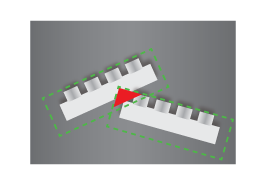 Robot's pick-up region is checked for any foreign substance or wrong target. The system judges which target Robot can pick up.
Application(Special-purpose inspection tools)