Verifying Inspection Results in Real Time with VDA (ViSCO Data Analyzer)
It is possible to save status information, inspection data, and measurement data, and to take statistics.
The image processing analysis software VDA (ViSCO Data Analyzer)
VDA is a monitoring software tool that is used to make charts (graphs) of the inspection results of a VTV-9000 system connected to a network in real time.
It can also be used in an offline environment in which the VTV-9000 series has not been installed.

VDA functions
An extensive lineup of charts
Customers can choose to display the following eight types of charts according to their purpose.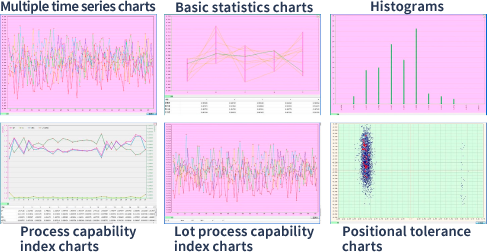 Single time series charts
Multiple time series charts
Basic statistics charts
Histograms
Process capability index charts
Historical histograms
Lot process capability index charts
Positional tolerance charts
Log file saving function
Received serial data can be saved to the hard disk as a log file.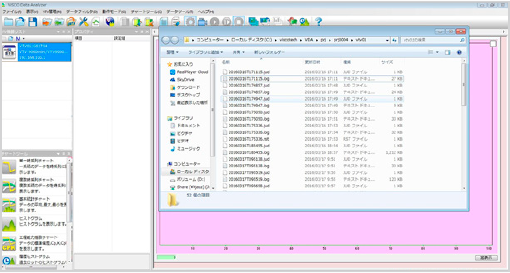 Usable in an offline environment
Saved log files can be imported offline to display charts.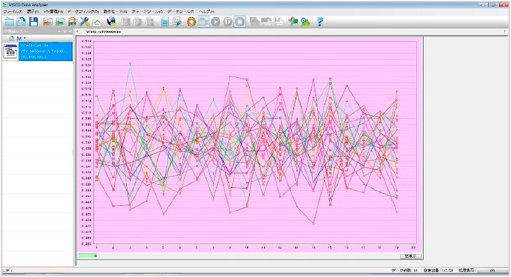 VTV-9000 series standard saving functions
With the VTV-9000 series, the types of inspection data below can be saved. This saved data can be used to perform analyses.
Defective image automatic saving function
All inspection-result data file recording function
Based on recorded data, the following types of statistics can be managed.
Six Sigma
Cpk(process capability)
Lot aggregation
Through combined use with the VTV-QCS lite, inspection data can be analyzed.
By importing VTV-9000 inspection data collected using the VTV-QCS lite to VDA, the data can be analyzed in greater detail, such as by analyzing and graphing it.
Operating environment
Image processing inspection system
※You can scroll horizontally.
PC
CPU
Intel Core i3 or later recommended
OS
Windows7 Professional(Service Pack1 or later)
Windows 8.1
Windows 10
The 32 and 64-bit versions are separately supported.
OSlanguage
Japanese / English / Chinese (Simplified) / Korean
Memory
4 GB or more
Image resolution
1280×800 or more
※You can scroll horizontally.