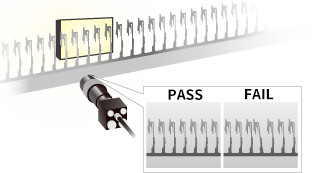 Pressed-product width, dimension,
and bending inspections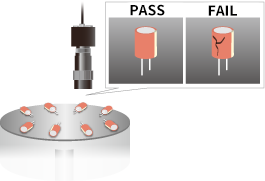 Chip-part scratch, dirt,
and crack inspections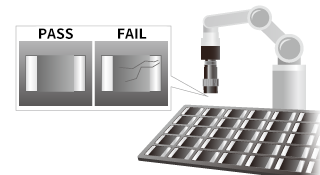 Chip-capacitor scratch
and crack inspections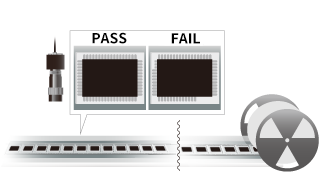 In-tape dirt and
chip inspections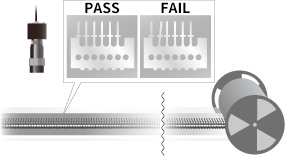 Pin burr and
pitch inspections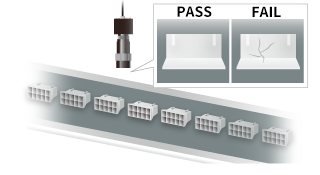 Housing burr, chip, and
foreign matter inspections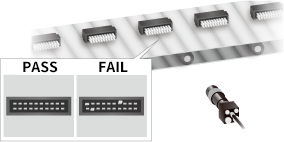 Post-pin-insertion
pitch and
coplanarity inspections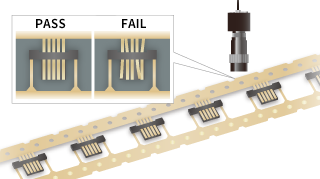 Post-one-piece-molding pin bending
and resin overlap inspections
There are also many examples that are not shown here.
If you have any questions about the feasibility of inspections with our company's products, etc.,
please feel free to send us an inquiry.
Customer feedback
Only ViSCO can handle inspections that are this hard (high resolution, high precision).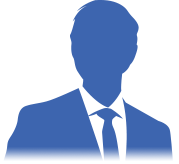 With the VTV-9000, setting up is easy, and even inspections that tend to be complex can be finished with few tools. Image launching now takes a lot less time and fewer work-hours than it used to. It's great!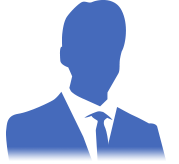 Because an integrated image can be used for calibration, multi-cavity changes enabling consistent inspection precision can be quickly handled.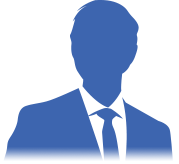 Possible Inspection Examples
Lead inspections
The lead parts can be registered as a model
to detect each lead during a search.
Inspection target parts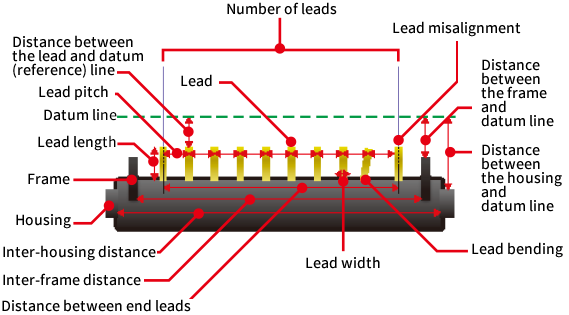 Coplanarity inspections
These are inspections during which a datum line is specified and whether the leads are within the corresponding tolerance is checked.
An image is captured from the side to conduct an inspection and check for leads that are sticking up.

Mold inspections
These are inspections during which the characters on the front surface of a mold are inspected, and the surface is inspected for scratches.