VTV-QCS Lite for Efficient Operation
Checks and Data Management
VTV-QCS lite is software that can be used to check the VTV-9000 operation status or unify the management of inspection data through a PC via LAN
even when you are not on-site at the FA line. A maximum of 253* VTV-9000 controllers can be connected.
* The number of controller connections might vary according to the usage environment.

| | |
| --- | --- |
| Operation status | Monitor VTV-9000 operation status |
| Operation screen | Monitor the VTV-9000 operation screen |
| Backup | Export and save task(s) in the VTV-9000 |
| Batch setting | Task data can be applied to multiple VTV-9000 controllers in one go |
| Data collection | Acquire lot files or images saved in the VTV-9000 |
※You can scroll horizontally.
Remote monitoring
Check the controller's execution status, information on executed tasks, and inspection status. An alert message can be displayed when an abnormality is observed in the production line, such as when a product is judged NG more times than the set value or a drastic delay occurs in the inspection cycle time.

Batch collection of saved image or inspection results
Images saved in the VTV-9000 can be collected at one time for more efficient aggregation and management of inspection results.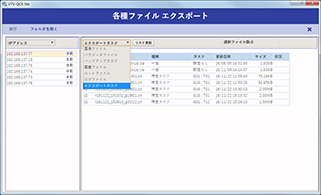 Inspection results
・VTV-9000 inspection-result file output (files/log files)
・Image files saved in the VTV-9000
・Lot output (files/lot files)
・Screenshots of inspection screens (image files)
・Parameter files
・Batch collection/importing of task data
Aggregation and management of the said data is available.
Batch collection/distribution of task data
VTV-9000 task data can be collected or distributed in one shot. One task setting can be applied to multiple controllers. As an example, this is highly effective when updating software or adding inspection items.

Combined use with VDA (ViSCO Data Analyzer) enables inspection data analysis
Inspection data collected by VTV-QCS lite will be incorporated into VDA. This enables even more detailed data analysis, such as diagnosis or showing the data graphically.
Details on VDA (ViSCO Data Analyzer)
Operating environment
Machine Vision System
※You can scroll horizontally.
PC
CPU
Intel Core i5 or later recommended
OS
Windows7 HomePremium (Service Pack1 or later)
Windows7 Professional (Service Pack1 or later)
Windows7 Ultimate (Service Pack1 or later)
Windows10 Home
Windows10 Pro
32bit, 64bit versions are supported
OS language
Japanese/English/Chinese (simplified)/Korean
RAM
4GB or 4 Gigabyte
Display resolution
XGA(1024×768)or higher
※You can scroll horizontally.