VTV-QCS for Efficient Operation
Checks and Data Management
VTV-9000 inspection screen can be remotely checked without going to the production line; inspection history can be viewed using a powerful conditional search feature. Solution for various challenges in a production line, e.g., importing a configured inspection task to other VTV-9000 systems at once, is available.
VTV-QCS consists of a program group (QCS server) executed on VTV-9000 and a program group (control server) executed on server PC. By having these servers and a PC for running a web browser for monitoring connected n the same network (LAN), basic operation becomes available.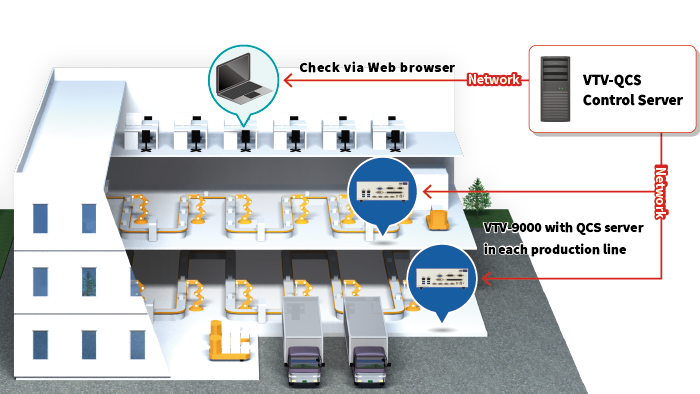 "Device Monitor" that Allows Remote Monitoring and Operation
"Device Monitor" monitors current operation status of a VTV-9000. Operation status, active task, judgment result, inspection counter, and inspection time can be checked. If any of the following meets the conditions previously configured, e.g., occurrence of continuous rejects, inspection overtime, exceeding lower limit for OK or upper limit for NG rate, alarm notification pops up on the screen.

In addition, "Remote Connection" feature enables display of inspection screen of the selected device (VTV-9000 and the device can be operated.

"Time Traveler" Feature to Query the Past Data.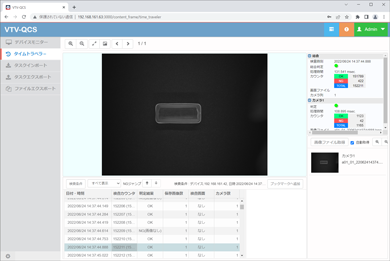 Past inspection judgment result, processing time, and inspection images can be viewed. Search using various conditions such as date, task name, group number, task numbers can be conducted.
Import/Export a Task and Various Files.
Export a task or a file on a VTV-9000 to a client PC, and import an export file in a client PC to VTV-9000.

Usage such as batch export of the inspection data from multiple VTV-9000 controllers, or export of a task from a VTV-9000 that all the configuration is complete and import the said file to other 20 units of VTV-9000 at once is available.
Manage Devices' Version / Batch Update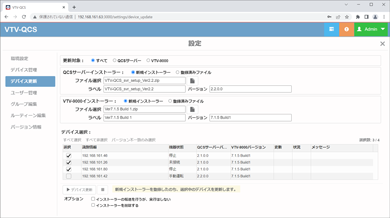 Batch update of QCS Server of VTV-9000 system software on the managed devices is available (available for administrator only) Versions of each device's QCS Server and VTV-9000 can be checked from the setting screen, contributing to reduction of controlled man-hour.

Use of VTV-9000 with the supported version or later and with QCS server installed is the prerequisite.
Combined use with VDA (ViSCO Data Analyzer) enables inspection data analysis
Inspection data collected by VTV-QCS lite will be incorporated into VDA. This enables even more detailed data analysis, such as diagnosis or showing the data graphically.
Details on VDA (ViSCO Data Analyzer)
Operating environment
Machine Vision System
※You can scroll horizontally.
PC
CPU
Intel Core i5 or later recommended
OS
Windows7 Professional (Service Pack1 or later)
Windows7 Ultimate (Service Pack1 or later)
Windows10 Pro or later
Supporting 64bit version only. Cannot use in 32bit version.
OS language
Japanese/English/Chinese (simplified)/Korean
RAM
At least 4 GB (16 GB or higher is recommended)
Display resolution
XGA(1024×768)or higher
※You can scroll horizontally.