Seamless, high-precision linkage
of divided images
Combining multiple images into one makes it possible to perform inspections where detection is difficult when using one image as well as measurements and inspections spanning multiple images.
Because we combine composite images at a sub-pixel level of precision, inspection and measurement can be performed immediately after image combination. Inspections of real position tolerance, coplanarity, and total pitch are possible with a linked image.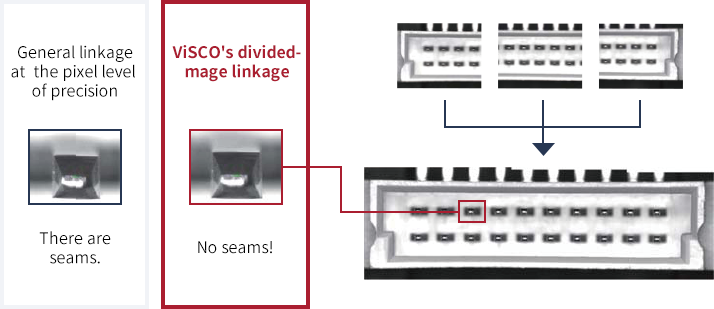 Highly robust
search capabilities
Our systems handle various inspection conditions, including cases where there are missing/chipped objects, variation (in thickness, thinness, or orientation), blurring or noise effects, or differences in brightness or shade in images of objects of inspection.
The search processing time is a high-speed 0.2 to 0.5 msec, and our systems achieve stable, high-precision detection with a repeatability of 1/4 to 1/2 of a pixel.
Blob processing that focuses only
on defects you want to detect
In addition to area and area-centroid-based analysis, various other analysis methods can be used to narrow down the target, including the threshold method.
■Linear analysis
Broken lines are predicted and linked to judge them as one blob. This is effective for detecting scratches, wrinkles on film-like sheets, etc.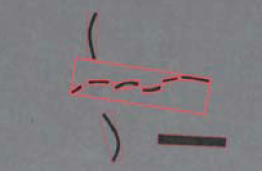 ■Hysteresis thresholds
Two thresholds can be used to specify settings that make it possible to detect only the necessary target.