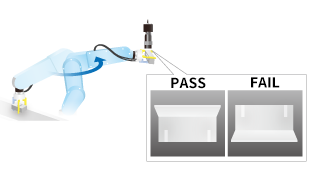 Housing direction inspections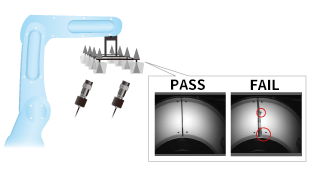 Container label inspections
There are also many examples that are not shown here.
If you have any questions about the feasibility of inspections with our company's products, etc., please feel free to send us an inquiry.
Customer feedback
Because the Super Focusing Camera captures images from an angle, it can be installed without getting in the way of the conveyance system, which is a big help.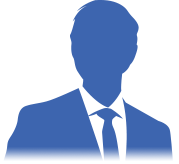 ViSCO's system reliably picks up objects of inspection that pass through while facing in random directions.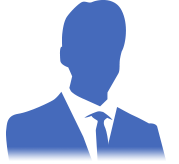 Possible Inspection Examples
Inspections from an angle that only our Super Focusing Cameras can achieve
Here, the labels on resin-molded cups are inspected for misalignment as a robot carries them. Due to the high speed at which the cups are moved, the cameras were installed below the cups at an angle. In spite of this angle, the sides of the cups are completely in focus from top to bottom, which makes a high-precision inspection possible.
Achievement of accurate object pickup with an extensive lineup of functions
Discernment of the front and back surface
It's okay even if the same side isn't facing up!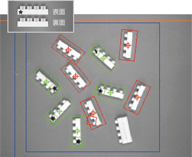 Objects of inspection are not necessarily facing the right way for the robot to pick them up. With RobotFinder, both the front and back surface can be registered and discerned, which makes inspections suitable for each application possible.
The front and back surface are reliably distinguished by using a highly precise two-stage search.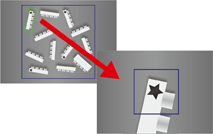 Our system searches for a unique character or symbol that can be used to distinguish between the front and back in order to precisely discern whether to pick up an object.
Detection of multiple objects
Considerable reduction of the alignment time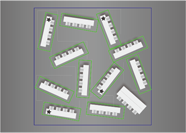 The same object can be detected multiple times with one search, and the coordinates of each detected object can be output via serial or network communication.
Output based on a coordinate system suitable for robots
Achieving compatibility with more robots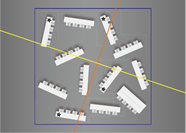 For image processing, the top left corner of the image is the origin, but robots do not necessarily use this system. Because our systems make it possible to specify different coordinate systems, coordinates suitable for robots can be output.
Simple setup requiring nothing more than check-box selection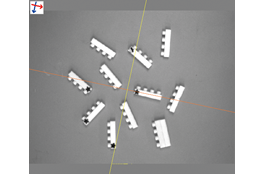 Coordinate system and
detection-number settings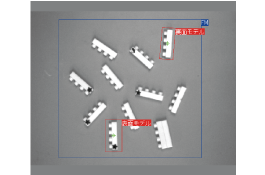 Search settings
Coordinate system and detection-number settings
Settings can be easily specified just by selecting check boxes for the coordinate-axis direction, rotation angle, etc. to use when outputting detected coordinates to a robot.
Search settings
Search models for the front and back surface can be registered and set.
Various condition settings
Front and back conditions, distance conditions (the feasibility of distance measurement, nearby-area checking, etc.), and nearby-area-condition thresholds can be set.
①Distance checking
Overlapping objects of inspection are excluded!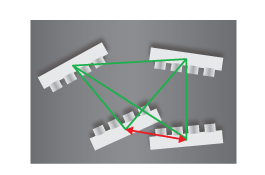 Because the distance between objects is measured, it is possible to judge cases where it is not possible for the robot to pick them up, such as when objects of inspection are overlapping or stuck to each other.
②Nearby area checking
Objects of inspection that can be picked up are selected!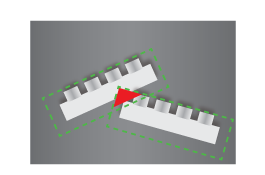 The nearby area is checked to see whether there are other objects of inspection, foreign matter, etc. in the robot's pickup area. Only objects that can be picked up are selected.