NIR camera that
visualizes invisible.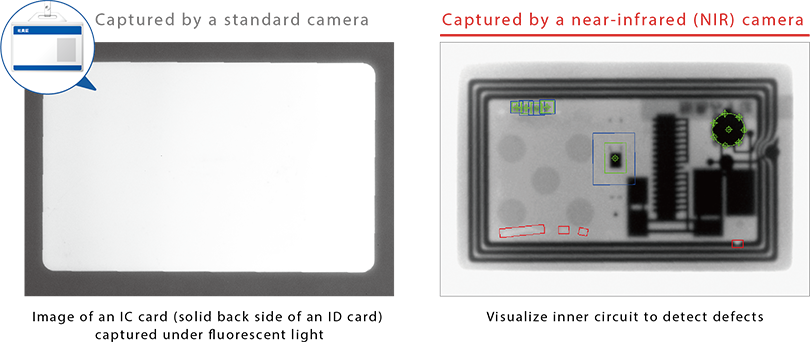 NIR camera makes what human eye cannot see into inspectable
NIR camera offers solution to "what needs to be inspected cannot be checked by human eyes". By visualizing inspection target's "difference in light reflection/absorption/ transmission characteristics, inspection of something invisible under human eyes can be done at higher accuracy. Conditions that had to be confirmed by actually touching or demounting can be visualized to judge defects.
Target models
VTV-9000ST VTV-9000miniR VTV-9000mini
ViSCO's NIR camera clears various conditions
1. Visualize the invisible
Inspection that was challenging using a standard camera becomes feasible.

2. Dealing with wide wavelengths ranging from visible to near-infrared spectrum
One sensor can detect the wavelength from the visible spectrum, 400nm, to the near infrared domain, 1700nm. Visible light illumination and IR lighting can be used together.

3.1.3M pixel camera enables high-resolution image acquisition
Offering nearly fourfold resolution against existing NIR cameras, enabling high-accuracy inspection with

Hardware Specifications
1.3MP NIR
Model number
Load resolution
(pixel)
Image transfer speed
External dimensions
(W) x (H) x (D)
Standard mode
High-speed mode
VTC-D013R00-AD
1248x1024
7.8ms
(129fps)
-
58x58x90mm