Peripheral Equipment
Super Focusing Camera
Defy common sense in cosmetic inspection; camera for inspection from angle
Inspection possible only by human eyes is now possible using a super focusing camera

When capturing an image from angle with a standard camera like the way visual inspection is conducted, the captured image will be partially focused and have perspective and not suitable for inspection.
Super Focusing Camera, a breakthrough camera developed by ViSCO, will solve all those issues.
In addition to realization of high-accuracy inspection, it will contribute to cost reduction of inspection site.

Target models:VTV-9000F, VTV-9000ST, VTV-9000miniR, VTV-9000mini

Three features only possible by Super Focusing Camera

1. Defects such as scratch or dent can be seen clearer
Some flaw or surface asperity might be less visible when captured from top; capture image from angle to make flaw or surface asperity more visible.
Cast a shadow with regular
reflection light for higher contrast.
2. Sections that are not visible when image is acquired from directly above can now be inspected
Complex shape might not appear inspectable using a camera from top; use camera from angle to make it obvious. Satisfactory image of inspection area can be captured.

3. Images can be acquired simultaneously from 3 sides enabling
No need to prepare the same number of cameras and lightings as the number of inspected sides. One image acquisition for one high-quality image showing three sides; inspection feasible with less camera and less image acquisition number, higher-speed and cost reduction of the whole inspection project can be expected.

Improved flexibility in machine design
Inspection on all sides possible by rotating → Complicated and expensive mechanism not necessary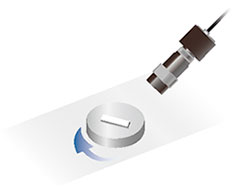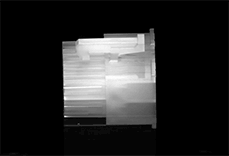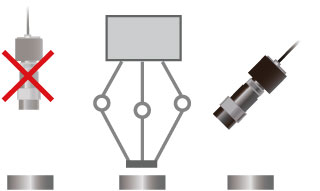 Usage Sample
Following is the list of Super Focusing Camera applications.
Cubic inspection to capture images of three sides simultaneously of molded product
TP and width inspection on press-fit terminal
Gap inspection of connector mating part
Connector pin tip detection
Large molding item inner wall scratch inspection
Inspection on integrated resin molding on lead frame
Robot alignmen
Hardware Specifications
29M Monochrome
Model
number
Load
Resolution
(pixels)
Image Transfer Speed
External
Dimensions
(W) x (H) x (D)
Standard
mode
High-speed
mode
VTC-29MCM
N-series
6576x4384
200ms
(5fps)
-
68x68x83mm/
2.7x2.7x3.3inch
12M Monochrome/Color
Model
number
Load
Resolution
(pixels)
Image Transfer Speed
External
Dimensions
(W) x (H) x (D)
Standard
mode
High-speed
mode
VTC-12MCM1
N-series
3984x3000
53ms
(19fps)/
77ms*1
(13fps)
19ms
(52fps)
68x68x54mm/
2.7x2.7x2.1inch
VTC-12MCC1
N-series
*1 When connected to VTV-9000mini Up to 4 camera connections
8M Monochrome
Model
number
Load
Resolution
(pixels)
Image Transfer Speed
External
Dimensions
(W) x (H) x (D)
Standard
mode
High-speed
mode
VTC-800CM
N-series
3296x2472
63ms
(16fps)
-
68x68x54mm/
2.7x2.7x2.1inch
5M Monochrome/Color
Model
number
Load
Resolution
(pixels)
Image Transfer Speed
External
Dimensions
(W) x (H) x (D)
Standard
mode
High-speed
mode
VTC-D050M0
S-series
2448x2048
29ms
(35fps)/
31ms*1
(32fps)
-
35x35x40.7mm/
1.4x1.4x1.6inch
VTC-D050C0
S-series
VTC-R050M0
S-series
2448x2048
29ms
(35fps)/
31ms*1
(32fps)
7.6ms
(131fps)
35x35x40.7mm/
1.4x1.4x1.6inch
VTC-R050C0
S-series
*1 When connected to VTV-9000mini Up to 4 camera connections
2M Monochrome/Color
Model
number
Load
Resolution
(pixels)
Image Transfer Speed
External
Dimensions
(W) x (H) x (D)
Standard
mode
High-speed
mode
VTC-200CM
N-Series
2048x1088
13.5ms
(74fps)
6.7ms
(150fps)
68x68x54mm/
2.7x2.7x2.1inch
VTC-200CC
N-Series
DefFinder® Series