From ViSCO's Global Staff Vol.12
ViSCO's global network extends to countries around the world. As they work hard every day to provide more stable support based on the motto, "When in Rome, do as the Roman's do," ViSCO's special correspondents provide firsthand information straight from their countries. For this article, we had some of them recommend how to spend one's leisure time. We hope you'll enjoy it.
Summering on days off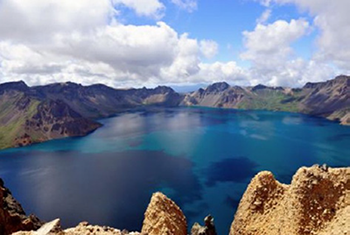 ▲ Paektu Mountain's Heaven Lake, located
at the border with North Korea
When the rainy season ends at the beginning of July, the intense, 40-degree heat sets in, bringing one sweltering day after another. Stepping outside is like walking into a furnace, and the extreme heat is truly unbearable.
Every animal under the sun is desperate to find respite from the heat. The always adorable pandas are no exception, and they would like nothing better than to find a big cube of ice to hug.
It's hot enough to make you want to hole yourself up in an air-conditioned room, but it's probably better for your health to find some more worthwhile entertainment. Luckily, China has loads of famous cool places to stay. They include the noble Chengde Mountain Resort, the utopian Shangri-La City, the emerald blue land of enchantment Jiuzhaigou, and the sacred mountain of four seasons Paektu Mountain. Of course, due to their fame, all of them are crowded regardless of the season.
In cases where such cool places to stay are outside the provinces, traveling to them takes at least three or four days. In addition, in China, no one but students and teachers has a summer vacation. Therefore, among most working adults, places where the few days off can be enjoyed without thinking about the time or distance are popular.
One example is the water park. Water parks can be enjoyed by people of all ages without having to travel far, even on the weekends.
Due to the current water park boom, there is a constant stream of fresh themes and events in various regions. These include Mahjong in the water, which involves standing or sitting in the cold water to play Mahjong with the blazing sun overhead, water gun fights between parents and children, which children can enjoy during their summer vacations, delightful night games, complete with beer and music, and thrilling jungle adventures.
China is therefore home to everything from nearby amusements to resorts famous in foreign countries, so anyone can fully enjoy summering here at any time, and entertainments that can truly enrich the heart have become universal. (ViSCO Shanghai)
A German-style vacation experience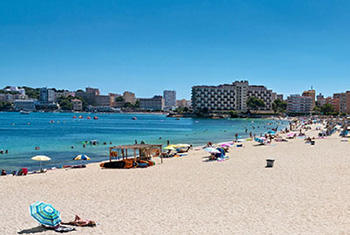 ▲ Mountains are nice and all,
but it's all about the sea!
One thing that has surprised me about living in Germany is the length of the vacations. Because people here are required by law to take at least a 20-day vacation, long vacations that span several weeks are considered a natural right.
Clinics and even preschools typically have summer vacations. I was hesitant about this at first, but now I have accepted that long vacations are just a fact of life for everyone here. In addition, time off due to illness is handled separately, so the minimum of 20 days of paid leave are strictly for vacation purposes.
Possibly due to the length of the vacations, the prevailing style is to spend vacations just like everyday life at the vacation destination. The German people love nature deeply and prefer to live at their own peace. Popular activities include reading by the sea, hiking in the mountains, and cycling around lakes.
Due in part to the ability to travel by land, recreational vehicles are popular here, and, once summer vacation starts, it's not uncommon to see families packing up their bicycles and heading out with as much luggage as if they were moving. Some head south past the Alps to Italy, while others head north across the North Sea to Sweden.
In summer, the German people want to get as much sun as they can. The sun-drenched countries of Southern Europe, including Italy, Spain, and Croatia, are popular destinations. In particular, Mallorca, Spain is as popular as Hawaii is in Japan, and it's famous as a warm place to go in the winter.
The North Sea, which faces Northern Germany, is popular as well, but it's windy and tends to be cloudy even in midsummer, so I don't plan to go.
Hotels offering all-inclusive plans that leave nothing to be desired, including food, and don't involve setting foot outside, are also popular. In addition, cruises have also been popular recently, and, in addition to the courses in Europe one would expect, there are courses that go all the way to Japan. I'd like to try out a cruise myself at some point. (Sakai)
A trip to experience the essence of Japan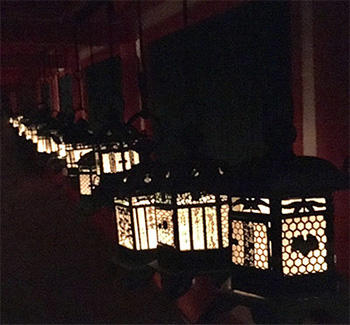 ▲ The otherworldly feeling increases as night falls
During my summer vacation this year, I ended up traveling to the ancient capital of Nara because I wanted to experience something traditional and distinctively Japanese.
During this trip, I visited Kasuga Grand Shrine to see Chugenmantoro (the Lantern Festival), a traditional event that has been held for around 800 years. Kasuga Grand Shrine is strongly associated with deer. The origin of this is apparently that the deity of Kashima Shrine came riding in (from Ibaraki Prefecture) on a deer. Did you know that?
Anyway, during this religious ritual, the lanterns on the shrine grounds are lit with a sacred light, and the event is held annually, both in February (on Setsubun) and on August 14th and 15th (on Chugen night). Normally, the corridors of the main shrine where the bell lanterns are kept are off limits, but entry is specially permitted at these times for an admission fee.
At around 6 o'clock in the evening, the chief priest lights the first lantern in front of the main shrine, and then Shinto priests light the approximately 1,000 bell lanterns and approximately 2,000 stone lanterns on the shrine grounds one by one.
There is thus a total of approximately 3,000 lanterns, and, over the years, they have been lit up as an offering by the Fujiwara clan and the many people who came after them. If you look closely at the lanterns, you can see that they have various designs, including family crests, scenery, and characters.
As night fell, the light of these lanterns, each of which has meant so much to people, glowed in the darkness, gently illuminating the vermilion hues of the shrine with an otherworldly light.
Even after I finished watching the event, I was able to enjoy the nearby festival stalls and other festivities late into the night. In particular, I was surprised by how big the various sculptures and Buddhist temples I have seen in textbooks were as well as by the fact that they have been managed and maintained for such a long time.
Due to how expansive the nearby forests, gravel roads, stone stairs, and other Shinto shrines and Buddhist temples were, I ended up walking around 30,000 steps that day. If you decide to visit Nara for sightseeing, I recommend watching out for local wildlife and wearing sneakers or other shoes that are comfortable to walk in.(Japan head office)
A sa baay destination, and a may sa baay journey
▲ Simply stunning...
Sa wat dii khrap! Thailand is well-known as a tourist spot, and it was even ranked the most popular travel destination in the world according to some research.
The country is indeed rich in both nature and food, and the prices are low, which means good cost performance. There are also plenty of comforts to be found as a resident.
In the Thai language, such comfort is referred to as "sa baay," but the term is also said to express the national traits of the Thai people, and the word really does see a lot of daily use. When the sun goes down and it gets cooler in the evening, it's "sa baay," when someone is feeling good because of a massage, they say "sa baay," and when a hammock sways, it's "sa bay sa baay." Conversely, when someone isn't feeling well physically or emotionally, they express it by saying "may sa baay," and even depression is apparently translated as "may sa baay (of the mind)."
In other words, the Thai people are single-minded in their pursuit of sa baay, and they naturally strive for sa baay over all else during their leisure time. I do not exaggerate when I say that I have often thought of Thailand's sea and plateau resorts as heaven on earth.
As a matter of fact, not even a power outage, water outage, or the sudden appearance of an unusual insect, scorpion, snake, or big lizard can bother me when I'm at such a place. It's hard to explain just how amazing Thailand's resorts are to someone who hasn't experienced them, but I can personally see why they have been ranked number one in the world.
But this isn't the only thing Thailand is ranked number one for. According to certain research, Bangkok has been "crowned" number one in a ranking of the world's most traffic-congested cities. Therefore, as you can probably imagine, going to and from the suburbs during consecutive holidays is hell. It's absolutely may sa baay.
Thailand is home to both sa baay heaven and may sa baay hell, and the leisure time here seems to have struck a good balance with the requirements to enjoy it.(ViSCO Thailand)