The VTV-9000 series employs a new interface which requires no programming called the "Self-flow Method" to make things simpler, easier to understand, and easier to manage.
Easy settings start up and reduce working hours
The easy-to-use interface can reduce introduction start-up working hours by as much as this!

Sheet training function
When training is performed for each sheet in turn, setting is completed.

Settings is easily completed just by training from left to right in turn.

Focus adjustment assist function
Adjustment of focus of the lens is an operation that must rely on the senses of the individual. However, the VTV-9000 series assists focus adjustment so that whoever performs the adjustment, the focus will be the same.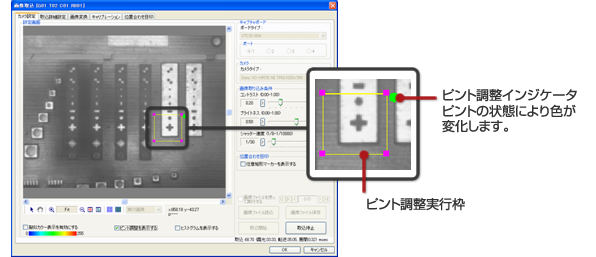 Transmit the same setting to multiple devices simultaneously
It is possible to import/export task data between devices in the VTV-9000 series systems. The same setting can be transmitted collectively via the network in the case where multiple devices are started up simultaneously too.

Reduced development working hours and development cost
Because the VTV-9000 series vision inspection systems are general-purpose, it is possible to construct inspection algorithms without any programming. Naturally, features such as high throughput, large capacity and high-resolution camera connection remain unaffected.